You are here

Buying bonds today? There has to be a better way.
Buying bonds today? There has to be a better way.
Submitted by Tradition Advisers on March 14th, 2017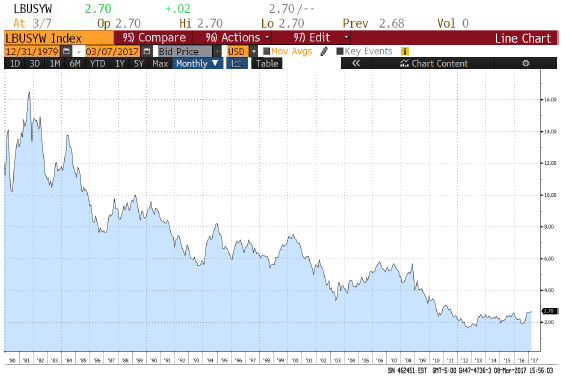 The Barclays US Aggregate Bond Index – Historical Yield 1980-2017
The Bloomberg Barclays Aggregate Bond Index returned 2.65% in 2016 and we expect returns to remain low over the next 10 years, compounding at around 2.5-3.0% annualized with a current yield of 2.70%. As interest rates rise from the historic lows of the past decade, possibly reaching 5-6%, total returns on bonds are anticipated to be lower or even negative initially. While no one has a crystal ball, we believe investors should look for higher yielding assets with better expected returns and less systemic headwinds. Ideally, these assets will also have lower correlations with stocks and bonds, further reducing portfolio risk through diversification.
After being faced with this difficult investing environment, we have identified a number of investments that exhibit these better expected returns and diversifying characteristics. They are: Reinsurance, Private Real Estate, Variance Risk Premium Harvesting, and Alternative Lending, to name a few. Please read our whitepaper for a more in-depth analysis.